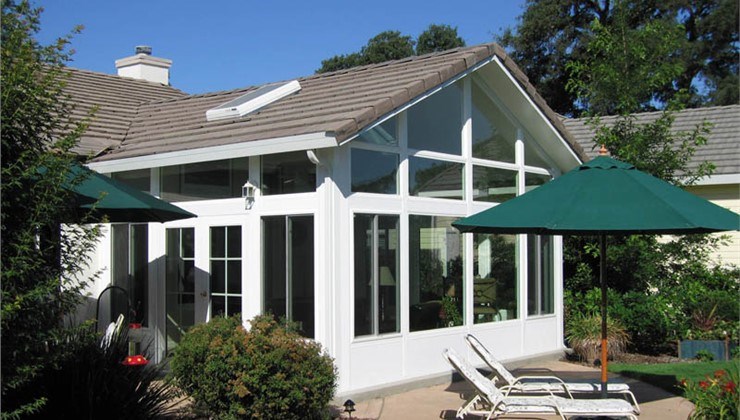 Are you considering making sunroom additions part of your service offerings? If you haven't, you certainly should be! While sunroom additions have traditionally been most profitable in affluent markets, C-Thru Sunrooms' innovative products are available at various price-points—thus expanding the market to homeowners with moderate income.
Whether you're a full-service home improvement contractor or a home remodeler that specializes in a few areas such as siding and windows, becoming a C-Thru Sunrooms dealer is an excellent way to expand and grow your business. If you happen to be a dealer of another of the sunroom manufacturers, we'd love to have you join our team and become a dealer of our american made products!
Before we explore our industry-leading products and superior sunroom manufacturer support, let's start with a few reasons why sunroom additions are a perfect enhancement to your service portfolio and why it makes sense to become a dealer.
Why Choose C-Thru Sunrooms for Your Service Portfolio
We started our family-owned business in 1947, and ever since we've been committed to offering innovative, high-quality sunroom additions at affordable prices. As we've grown to become a leader in sunroom manufacturers of USA-made products, we've set the stage for successful new dealers. The market for sunrooms has grown immensely during the past seven decades, and C-Thru Sunrooms has set the trends for quality, innovation, and value every step of the way.
By adding C-Thru Sunrooms to your service portfolio, you'll experience immediate benefits, such as:
Success: You'll quickly become a flourishing part of the home remodeling industry in your region's more affluent communities.
Profitability: Sunroom additions are an exceptional home improvement service offering that increase your bottom line.
Opportunities: With a growing number of satisfied customers, you'll have the opportunity to complete more home remodeling projects—and earn repeat business.
Why Our Products Make Us a Top Sunroom Manufacturer
Over the past 70 years, we've become known for manufacturing the highest performing sunrooms in the industry, and we're continually improving the quality of our products and increasing our selections. As a result of our innovative spirit, all of our sunroom additions are durable, beautiful, and energy efficient.
Rather than taking a one-size-fits all approach to sunroom design, our products are easy to customize and are available with numerous upgrade options—leading to increased homeowner satisfaction and contractor profitability.
When you become a dealer and partner with C-Thru Sunrooms, you'll enjoy countless benefits from our industry-leading products including:
Quality Products Engineered to Last
Superior Durability: We design our sunrooms with exceptional load-bearing capabilities to withstand heavy rain, high winds, and excessive high and low temperatures. C-Thru products are built to stand up to anything Mother Nature has in store!
Exclusive Warranty: You won't find a better manufacturer's warranty than a C-Thru Sunrooms warranty! We stand behind our products with a transferable limited lifetime warranty that includes an incidental glass breakage warranty and a 20-year insulated glass warranty.
Energy-Efficiency and American-Made Appeal
Maximum Energy Efficiency: Our rooms are insulated and protected with our EcoGreen system to help lower your customers' energy costs and keep them comfortable year-round.
Diverse Appeal: C-Thru Sunrooms offers rooms for any budget—from small, budget-friendly sunrooms to elegant conservatories. With such a wide selection of styles and price-points, your business will appeal to a large potential customer base.
American-Made Products: All of our products are proudly manufactured in the USA, and can easily be installed by your employees or your preferred local contractors.
Extensive Selection and Sales Opportunity
Various Product Offerings: Our offerings include sunrooms, conservatories, three-season rooms, screen rooms, enclosure systems, and patio covers, all proudly made in the USA. Your customers can select from a wide range of sunroom styles to complement the architectural aesthetic of their homes—whether they are modern, contemporary, American colonial, Victorian, or anywhere in between.
Endless Customization Opportunities: Just as every homeowner is unique, we want their sunroom to be unique. That's why our products are easy to customize with various base specifications, several thermal insulation levels, glass types, roof systems, window and door styles, lighting and electrical options, accessories, and upgrades such as our popular solar roofing. As a dealer, you'll design your customer's room to their exact specifications using our industry-leading CAD design technology.
Strong Sunroom Manufacturer Support
Preparation for Success: Dealer training programs for sales and installation, including marketing collateral, and other support solutions to ensure you are well-versed in the products and well-situated to succeed in profitably incorporating sunrooms and related products into your portfolio of offerings.
Quick Turnaround Times and Fast Shipping: We know meeting completion dates is essential to customer satisfaction. That's why we guarantee that our products will be manufactured in 10 days or less! Plus, 98% of our jobs are shipped on time, and because we use the industry's best packaging, we have 99% less damage on delivered materials.
Easy Installations: The last thing you want is to have your entire crew working on one job for weeks at a time. At C-Thru Sunrooms, our products arrive as pre-built wall modules—custom-manufactured to your specifications and customer requirements—to make it easy for you to complete the project in just a few days.
Return On Investment
Maximum ROI: According to U.S. News & World report, sunroom additions provide a 100% return on investment, making it an attractive offering for your customer base and a chance for your sales team to drive more profit to your business.
Why C-Thru Sunrooms is a Leader in Dealer Support
There are many sunroom manufacturers to choose from, but not all are created equal. Becoming a C-Thru Sunrooms dealer means that you're a representative of the industry's leading sunroom manufacturer. We want you to have all of the training and support that you need to be a success! From installation training programs to ongoing support, we'll provide you with everything you need to run a profitable business—and earn the respect of countless satisfied customers.
We're sure that you'll enjoy the benefits you receive from our training and support services when you become a dealer of C-Thru Sunrooms, including:
Exceptional Training Programs: C-Thru Sunrooms proudly offers one of the industry's leading training programs. We'll provide you with the skills and knowledge you need to easily install all of our products, and deliver essential sales training and marketing materials to ensure that your business is success from day one.
Extensive Sales and Marketing Materials: You'll receive plenty of eye-catching sales collateral to utilize when meeting with customers. With a range of brochures, demo kits, displays, and more, you'll be able to let your customers see just how amazing our C-Thru products truly are.
Ongoing Support: You'll never be alone with our expert team, they're here to provide you with sales tips, marketing assistance, uptraining, and answer any questions that arise.
Are you ready to expand your remodeling business by partnering with the original manufacturer of quality sunrooms? If you answered yes, don't wait another day to offer your customers beautiful, durable sunrooms at an affordable price! To learn more about becoming a C-Thru Sunrooms dealer, simply fill out our convenient online form to get started right now.
---
Tags
benefits of a sunroom
Become a Dealer
Sunroom Manufacturers
Remodeling Business
custom sunrooms
Energy Efficient Sunrooms
---