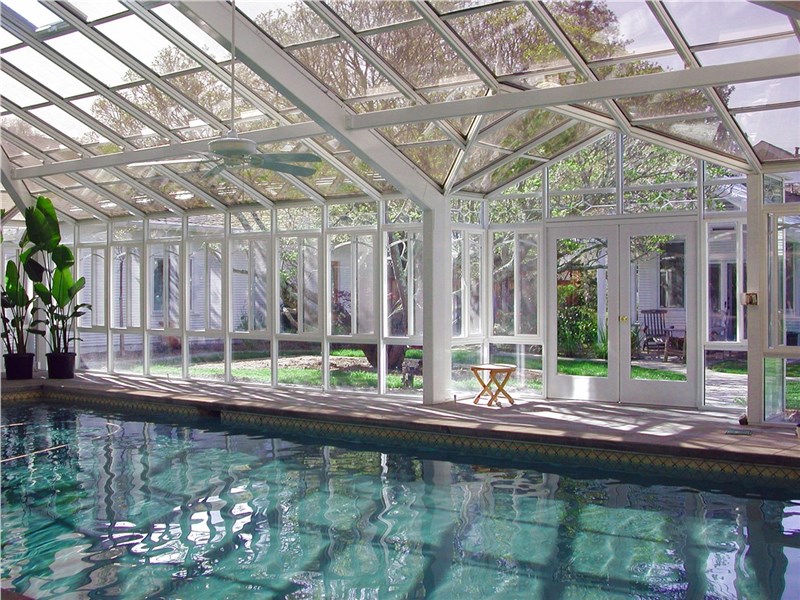 Having a pool in your backyard provides hours of endless entertainment during the warm summer months. From hosting barbecues with family and friends to celebrating birthdays and milestones, your pool is the perfect gathering place when you need somewhere to escape from the scorching summer sun.
What if you could use your pool all year long? At C-Thru Sunrooms, we've been installing sunrooms and conservatories since 1947, and we know that adding a pool house conservatory not only extends the swimming season—it transforms your home and backyard into a luxurious year-round getaway.
We asked our professional designers and installers their thoughts about pool enclosures, and they gave us their picks for the top 6 amazing benefits of our pool house conservatories.
1. Extend the Swimming Season
When you work with an expert team of designers, you can enclose your pool to extend the swimming season indefinitely! With a pool enclosure system, the outside temperature won't dictate when you use your pool. Rather, our experienced installation crews use quality materials and innovative construction techniques to keep your pool warm 365 days a year.
2. Endless Customizable Options
You don't have a settle for a cookie-cutter pool house sunroom with the assistance of talented designers to help you customize the appearance and cost of your enclosure. We'll make sure that your conservatory is a perfect fit for your tastes and budget, and customize every feature to match the style of your home. From roof styles and windows sizes to personalized features to enhance the functionality of your enclosure, your new sunroom will be expertly designed to match your lifestyle.
3. Quick, Professionals Installations
All of our sunroom pool enclosures are designed and fabricated by our talented crews using industry-leading computer design technology to eliminate design flaws and guarantee that your sunroom meets all of your expectations—and stands up to the harshest weather conditions. Best of all, our innovative construction process allows our factory-trained installers to complete most installations in just two days!
4. Outstanding Energy Efficiency
If you think a pool enclosure will raise your energy bills, think again! We strive to exceed industry standards to make your pool more energy efficient than ever before with innovative features like thick walls, thermal cladding systems, state-of-the-art dual pane windows, and our exclusive SmartGlass™ that provides exceptional performance to keep your energy costs low.
5. Low Maintenance Costs and Upkeep
Since the purpose of installing a pool enclosure sunroom is to enhance the enjoyment of your pool area, the last thing you want is to further your maintenance tasks and costs. Thankfully, by enclosing your pool, you'll actually save money on expensive pool chemicals because they won't be lost to evaporation—and you'll spend less time cleaning leaves, bugs, and debris out of the water. Plus, our durable, weather-resistant sunrooms are built for years of maintenance-free performance!
6. Exclusive Lifetime Warranties
Last, but certainly not least, all of our pool enclosures are backed with fully transferrable lifetime warranties! For the life of your sunroom, all of your glass panels are warranted against incidental breakage and your painted aluminum parts are guaranteed to never peel, blister, rust, or crack. To ensure that your enclosure remains energy efficient, you can rest assured that the vinyl thermal cladding, hardware, and weather stripping will never fail.
Are you ready to extend your swimming season and enjoy outdoor living at its finest with a luxurious pool house conservatory? Then reach out to the professional designers and installers at C-Thru Sunrooms today! Give us a call to speak with one of our friendly representatives, or complete our simple online form now to request a free, no-obligation quote.
---
Tags
pool house
pool enclosure
---