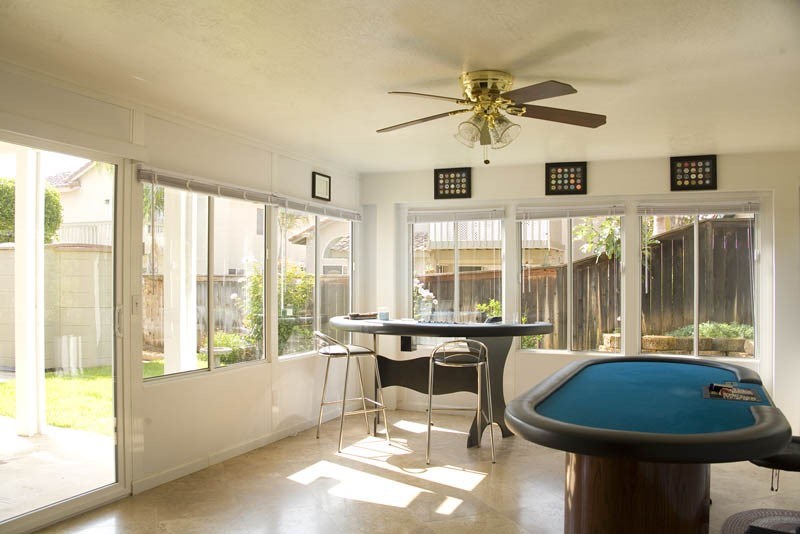 Do you have a porch or patio on your home that you barely use? Would you like to find a better way to integrate it into your daily routine? If so, you've come to the right place! At C-Thru Sunrooms, we have been helping homeowners create the sunroom enclosures of their dreams for years. The following are just a few of the most popular reasons we have found for adding glass patio enclosures to your home.
Get More Use from Your Patio
If you already have a patio or porch, you probably have enjoyed them few days outside, but they don't really provide you with adequate protection from the elements. Sure, they may block out some of the harsh sun and shelter you from light rain, but if the wind starts blowing, you have to bring all of your festivities inside. With glass porch and patio enclosures, you get protection from the sides, so you don't have to worry about the wind blowing rain, hail, or debris onto your porch. With this extra protection, you get much more use out of your existing porch or patio.
Add More Living Space to Your Home
Another benefit of installing patio enclosure systems is that they are an affordable home addition that offers extra living space. You can use this sunroom in any way that is most beneficial to you and your family. Whether you want to create a backyard getaway or entertaining space, the choice is yours! Not only does it create ample room for a study, office, or living room, but the addition also increases the value of your home to give you a great return on your investment.
Enjoy Year-Round Comfort
If you're tired of putting your outdoor furniture away when the temperatures drop, you will love your new sunroom patio enclosure. You can work with your installer to customize the efficiency level of your patio room so that it provides you with your ideal level of comfort. In fact, many patio enclosures come in three- and four-season sunroom options. The latter has added thermal insulation and high-quality glass to deliver year-round use and enjoyment.
Customizable Designs
Lastly, when you install a sunroom patio enclosure, you get the opportunity to add some curb appeal to your home. You can sit down with a talented team of designers to customize the entire design of your new patio room from the layout to the exterior. The following are just a few of the elements that C-Thru Sunrooms lets you customize:
Roofing
Walls
Windows
Doors
Outlets
Lighting
And more!
You can start customizing any of our enclosures by getting in touch with a C-Thru Sunrooms representative. He or she can answer any questions you might have over the phone, or you can set up a consultation. You can also take a moment to submit our online form if you would like to receive a free, no-obligation estimate for your project.
---
Tags
patio enclosure
porch enclosure
---