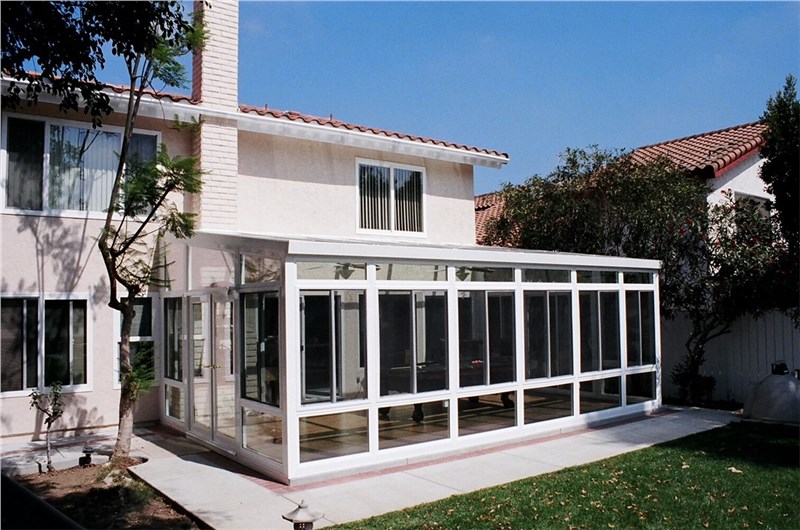 Nothing is more relaxing and therapeutic than the beauty of the outdoors, especially when you're blessed with a gorgeous view of plants, trees, mountains, or other natural elements from the comfort of your own home. However, unpleasant weather conditions, insects, dust, and other external elements can prevent you from fully enjoying the natural world in all of its splendor. Fortunately, there is an effective way to bring the outdoors inside to where you are—with a residential sunroom addition.
In the simplest words, a sunroom is a room built as an extension to your home's existing construction—that's equipped with beautiful glass windows that allow natural light to enter. While the sunroom offers magnificent views of the outdoors, the walls and the solid ceiling keep its occupants protected from all external elements.
C-Thru Sunrooms has been a provider of top-quality sunroom constructions for more than seven decades. As your trusted experts in home construction, we're always glad to share our advice with homeowners interested in enhancing their homes with a gorgeous sunroom addition. In this article, we're sharing some of our favorite benefits that come with sunrooms—and how to find a contractor that can build the stunning architectural masterpiece of your dreams.
Enjoying the Outdoors

Sunrooms are among the most popular type of home improvement projects for homeowners across the country and around the world. Perhaps the most well-known benefit of residential sunrooms is one we've already mentioned. Sunrooms feature beautiful floor-to-ceiling windows, which make them the perfect place to enjoy the beauty of nature without exposure to the downsides of it—like insects, extreme temperatures, or harsh weather conditions. If you've ever watched a rainstorm or snow falling from the comfort of your four-season sunroom, you'll know exactly how relaxing and fulfilling spending time in one can be.

Deciding what to put inside of a sunroom is entirely up to the homeowner. However, many of our customers fall in love with the idea of using their sunroom to tend to houseplants—filling them with a large variety of gorgeous sun-loving flowers, trees, and other plant types that need both protection from the elements and plenty of sun.
Add Functional Space in a Cost-Effective Construction

Sunrooms can be used for a variety of purposes. A beautiful sunroom in your home allows you to expand your living space—making it an ideal breakfast or snack area, gym, a playroom for the children, a space for meditation, a craft area for glass blowing or other artistic endeavors, among many others.
Sunrooms can be small, large, or any-sized, depending on your preferences. They also come in several different types, including the economical porch enclosure or patio enclosure to convert existing space into a sunroom to the custom engineered four-season sunroom addition.
When compared to the price you might pay to move into a bigger home or to build new rooms to your home, sunroom additions can be a very a cost-effective way to maximize your space and open up your home to more light, more functionality, and more beauty.
Boost the Value of Your Property

Along with maximized space and versatility, other benefits of a sunroom include the opportunity to enhance the value of your home. While it may cost some money to have a sunroom built, the ROI of this home improvement project is quite high. The beauty a sunroom contributes to the exterior and interior of your home is unparalleled, and will help it to stand out should you decide to list your property for sale.
Improve the Curb Appeal of Your Home

Residential sunrooms are not only functional, they're also elegant. Having a sunroom as an addition to your home can significantly improve the curb appeal of your property and wow passersby with the architectural design of your choice.
Your Most Trusted Contractors for Sunroom Buildings

Since 1947, C-Thru Sunrooms has offered a wide range of sunroom addition services for a number of construction types, including:
Four Season Sunrooms
Three Season Sunrooms
Sunroom Porch Enclosures
Patio Enclosure Sunrooms
What makes us the most trusted company for your sunroom construction needs is that we provide expert customized installation, and top-quality, energy-efficient products that come with complete lifetime warranty coverage. Furthermore, to showcase our commitment to excellent service and maximum customer satisfaction, our team of remodelers and designers work hand-in-hand for the quick completion of the project without compromising the quality.
If you want to learn more about our services and products, call us at C-Thru Sunrooms today. Alternatively, you may fill out this quick online form to schedule a free in-home estimate and consultation with one of our representatives
---